Micro Clinical Laboratory is the First and Foremost NABL and ISO accredited modern Pathology Laboratory in the Industrial Town of Haldia, near the Manjushree Crossing. Incidentally, it is also the First NABL accredited Laboratory in the entire Purba Medinipur district.
The laboratory started its journey in 1993-with sincere works and best quality reports. It showed spectacular growth and became a company in 2008. From day zero, it earned the confidence of the clinicians and general and corporate patients for the quality of service. It is provided not for profit but as a part of the service to citizens of Haldia and neighboring areas. Naturally, patients from all over both Medinipur districts started coming.
In 2008 it won the ISO accreditation and in 2017 prestigious NABL accreditation as the First Laboratory of the district. It became a name to reckon with.
Microlab is dedicated to patients. It is a must for your beloved members of your family. Please avail of our service and enjoy the difference.
HOW DOES OUR HOME COLLECTION WORK?
ENSURING QUALITY SERVICES
We are committed to stick to utmost Quality Service and to deliver it at right time to the customer. We shall persistently develop and effective Quality Management System by upgrading it to the latest technological innovation. This we shall do by providing appropriate resources and by imparting proper training to the personnel aiming at executing the needs & expectations of the customer. Delivery of the highest quality of services shall be ensured by reviewing continuing suitability of the system aiming at continual improvement of Quality Management System.
ACHIEVEMENTS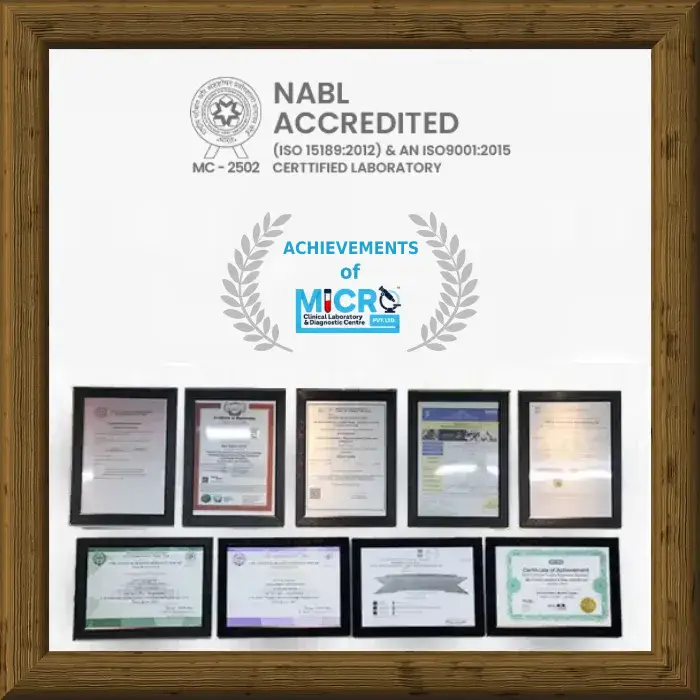 SOME OF OUR UNIQUE FEATURES
NABL accredited for almost all parameters in Haematology, Clinical Biochemistry, and Clinical Pathology.
Total Seven numbers of highly qualified Haematologists, Histopathologists, Biochemists, and Microbiologists are attached to the lab.
Altogether Twenty qualified and well-experienced technicians and phlebotomists are attached to the lab.
State of art and modern instruments like Full Auto Analyzer(2) CLIA and Hormone Analyzer, Haematology Analyzer (Seven Parts, Five Parts, and Three Parts), Elisa Reader, Electrocyte Analyzer, BACTEC Machine, ESR Analyzer, Complete Urine Analyzer, IFT Microscope, Immunoblotting for Allergy, Complete Cytology and Histopathology-set up, HBA1C and HPLC Analyzer we have.
Internal and external quality control from Roche, Biorad, AIIMS, CMS Vellore.
All monthly CV% is within 2% to 4%.
We deliver the report in 8 hours and for emergencies within 4 hours. On the other hand, we have a facility for online reports.
Complete a Computerized LIS system for report printing and delivery to minimize post-analytic errors.
Home Collection Facility from 7 A.M. to 8 P.M.
We have corporate tie-ups with- HPCL, CPT, IRC, HPL, HUL, DPTL, HEL, etc.